Burn Permits Needed May 1st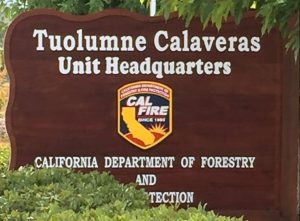 Cal Fire Tuolumne Calaveras Unit HQ sign

View Photos
San Andreas, CA – This weekend is your last chance to burn without a permit in the Mother Lode.
Come Monday at 8 a.m. the Tuolumne-Calaveras Unit of Cal Fire will require burning permits within the State Responsibility Areas of Tuolumne, Calaveras, Eastern Stanislaus and Eastern San Joaquin counties.  Cal Fire spokesperson Lindy Shoff reports burn hours will not be restricted, but that could change with conditions and result in a transition to nighttime burning.
Shoff would not speculate on what type of fire season can be expected but quoted Unit Chief Josh White by reminding everyone, "Getting your property ready for the coming fire season by creating and maintaining 100 feet of defensible space around all structures is an excellent way to protect not only your home, but your neighborhood and community as well."
She adds that pile size must be limited to a maximum of four feet by four feet (four feet in diameter, and four feet high) and clearing down to bare mineral soil 10 feet from the outer edges of burn piles.  Always have water and a shovel close by and never leave your fire unattended.  Additionally, never burn on a windy day.  Burning is only permitted on permissive burn days, which you can find out by going to the myMotherlode.com home page and checking the current conditions box near the top of the page.
Cal Fire provided this list of locations to get permits, which will be available only during business hours Monday through Friday:
CAL FIRE Headquarters, 785 Mountain Ranch Road, San Andreas (closed from noon to 1 p.m.)
West Point FFS, 22670 Highway 26, West Point
Twain Harte FFS, 22978 Meadow Drive, Twain Harte
Standard FFS, 18464 Striker Court, Sonora
Station 51, 19500 Hillsdale Drive, Mono Village, Sonora
Green Springs FFS, 11600 Jamestown Road, Jamestown
Blanchard FFS, 2990 Highway 132, La Grange
Groveland FFS, 11700 Merrell Rd, Groveland
Groveland CSD, 18930 Highway 120, Groveland
Ebbetts Pass FPD, 1037 Blagen Road, Arnold
Ebbetts Pass FPD Station 3, 40 Canyon View Drive, Hathaway Pines
Stanislaus Consolidated Station # 24, 321 E Street, Waterford
Stanislaus Consolidated Station # 28, 325 East G Street, Oakdale
Stanislaus Consolidated Station # 29, 1700 Main Street, Knights Ferry
Stanislaus Consolidated Station # 30, 13200 Valley Home Road, Oakdale