Man Throwing Rocks At Vehicles Arrested In Sonora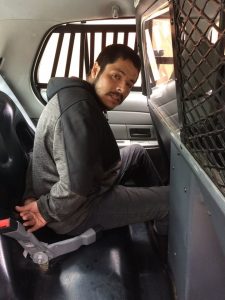 Santos Sanchez Arrested

View Photos
Sonora, CA — A man was arrested in Sonora after the police department received several reports of him throwing large rocks at moving vehicles on Stockton Road.
It happened Wednesday at around 10:30am. The PD received a description of the man and was able to locate and detain 32-year-old Santos Sanchez of Sonora. Sanchez initially provided officers with a false name.
The PD reports that investigators determined that Sanchez  threw large rocks at three different vehicles, hitting one. It struck near the driver side passenger window and caused minor damage to the vehicle. Thankfully, there were no injuries. Sanchez was booked into Tuolumne County Jail on felony charges of "Throwing a Substance at a Moving Vehicle and Assault with a Deadly Weapon." He was also booked for misdemeanor charges including "Being Under the Influence of Drugs and Providing False Identification to a Peace Officer." Sanchez's bail was set at $40,000.
Officers later recovered one of the rocks, which measured about six inches in diameter.