Update: PG&E Reacts To CPUC $8.3-million In Fines For Butte Fire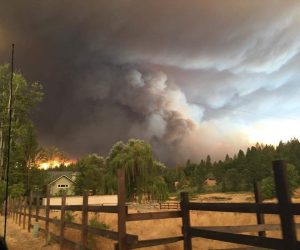 2015 Butte Fire Visible From Glencoe

View Photos
Update at 7:30 p.m.: PG&E spokesperson Brandi Merlo would not comment to Clarke Broadcasting as to whether the company plans to appeal the California Public Utilities Commission's citations but she did release this statement:
"PG&E received the citations from the CPUC and we are currently reviewing them. Our thoughts and prayers continue to be with the victims and the communities who suffered losses as a result of the Butte fire. From the beginning, we have been committed to doing the right thing in regard to claims, many of which already have been addressed and resolved."
Original post at 6:19 a.m.: Calaveras County, CA — The California Public Utilities Commission has issued two citations to PG&E related to the cause of the 2015 Butte Fire, totaling $8.3-million.
The commission's investigation found that a gray pine tree contacted a PG&E 12-kilovolt overhead electric conductor, which ignited the fire on September 9, 2015. The commission argues that PG&E first knew its equipment started the fire on September 11 but failed to report this to authorities until five days later. PG&E and/or its contractors also allegedly failed to identify that the planned removal of two nearby trees the prior January would allow the gray pine tree to become hazardous and make contact with the overhead conductor. Such contact occurred nine months later and started the fire.
The commission says PG&E did not have the minimum clearance required around the equipment and failed to maintain its overhead conductors safely and properly. The Butte Fire burned 70,868 acres in Amador and Calaveras counties. It destroyed 549 homes, 368 outbuildings and four commercial buildings. It also resulted in two civilian fatalities and one injury.
PG&E has 30 days to pay or contest the citations.