Murphys Restaurant Customers Get a Saturday Morning Surprise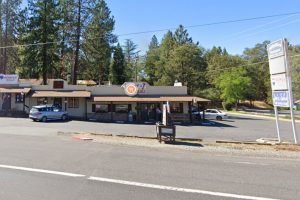 Murphys Hwy 4 Diner parking lot in Murphys

View Photo
Murphys, CA – A surprise for diner patrons this past Saturday as a sedan plowed into multiple vehicles in the eatery's parking lot off Highway 4 in Calaveras County.
The crash happened just after 11:30 a.m. east of Main Street at a local strip mall located at 55 Highway 4 in Murphys. The CHP reported that 21-year-old Ron Garcia-Dixon of Angels Camp was driving an Acura eastbound on the highway when, for an unknown reason, he allowed the sedan to drift into the westbound lane. He then swerved left to avoid a collision with an oncoming car. Garcia-Dixon lost control of the sedan, which plowed into the parking lot of the Murphys Hwy 4 Diner (formerly Hillbillies) and smashed into five parked vehicles.
Luckily, the CHP says that all those vehicles were unoccupied and no injuries were reported.