Medical Center Proposed In Jamestown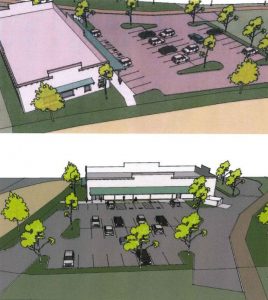 Proposed Satellite Dialysis Facility, Hwy 49/108, Jamestown

View Photos
Sonora, CA –  A proposed medical center in Jamestown is the sole item of new business on the  Tuolumne County Planning Commission's agenda at next Wednesday's meeting.
Back on March 7 applicants James Oliver and Dr. Kishore Kalluri submitted their most recent packet, seeking a site development permit for  a satellite kidney dialysis facility. It consists of a roughly 8,300 square-foot building on two parcels totaling just over 1.7 acres. Located on the west side of Highway 49/108, less than 300 yards south of the Rawhide/Humbug Road intersection, the site sits between the Dollar General and Day-O drive-through coffee stop adjacent to Sierra Gas Station.
The location contains three zones: General Commercial, or GC;  C-1:D requiring a commercial zone design review process; and open space, since Woods Creek is located along a parcel fringe that already contains a ten-foot wide public trail easement and is required to remain undeveloped. Among several conditions of approval is a drainage implantation program to deal with surface runoff from the project site and the use of a retention/detention basin for the paved travel ways and parking area.
Working To 'Fit In'
The developers – and county planning staff after a project review — maintain the proposal is consistent with the general plan and ordinance code as well as Jamestown's community plan. While the overall project design also reportedly meets local governmental criteria relating to infill developments and Jamestown architectural style, two property owners within 300 feet of the site, after being notified of the project weighed in with criticisms.
One argued that a retail or restaurant use would provide a more consistent use of the property than a medical center, though staff points out that the facility does fall under the permitted uses within the zoning ordinance. The other criticism came from the Tuolumne Heritage Committee, which stipulated that the building should be clad with lap siding instead of the planned stone veneer, due to the project's proximity to historic downtown Jamestown and adjacency to the Highway 49 "Heritage Corridor." The developers have reportedly agreed to the design change.
A public hearing will follow planning commission business items scheduled for 6 p.m. The meeting will take place in the Tuolumne County Board of Supervisors chambers on the fourth floor at the county administration center (2 South Green St.). To view the project plans, click into the image box slideshow.