Evergreen Road May Re-Open Next Week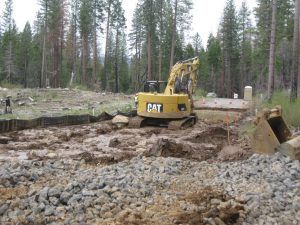 Repairing Evergreen Road

View Photos
Tuolumne County, CA — Evergreen Road in Tuolumne County has been closed since April 7, and county officials are providing an update on efforts to get it back open.
Evergreen Road experienced significant drainage issues during the winter months because of the heavy precipitation. Problems related to saturated soils were exacerbated by heavy truck traffic necessary to support hazard tree removal projects. The road was damaged and deemed unsafe for travel on April 7 and an emergency repair contract was issued by the county on April 14, with repair work starting on April 18. The county hopes to have the repairs completed, and the road back open, by sometime next week. One section alone (see photos) requires approximately 24 truckloads of 3' diameter boulders put together with concrete and asphalt to reestablish a passable road.
There is still access to Evergreen Lodge, Camp Mather and Hetch Hetchy Reservoir by using Cherry Lake and Mather roads.