235 Students Set To Walk This Week At Columbia College Commencement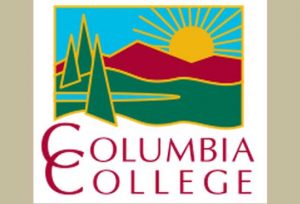 Columbia College Logo

View Photos
Columbia, CA — Columbia College will hold what will be its 48th commencement exercise this Friday evening.
Beginning at 6 o'clock the graduation ceremony will get underway in the Oak Pavilion after which a brief reception for the 235 Class of 2017 graduates and their guests will follow in the adjacent Carkeet Park.
This year, college officials say that 213 students earned associates degrees; 115 of these are associates of arts and 148 are associates of science. Of the class members, 33 are graduating with distinction, which requires a 3.75 or better cumulative grade average; 64 have earned honors, meaning their grades averaged between a 3.5 and 3.74. Additionally, 41 students are being presented with certificates of achievement.
According to college officials 38 graduates earned more than one degree. They are: Toni Lyn Adams, Shana Danielle Berthelson. Alexa Jean Bolton, Jonathan T. Borba, Darian Klaire Buckman, David Lee Burghgraef, Alexis Grace Byers, Kevin Stephen Carley, Sean Daniel DeAnda, Barbara J. Farkas, John Kendrick Geer, Ashley Marie Gelhaus, Carrie Francine Graham, Jacob Owen Gull, Kristine Anne Harbert, Stefany Nicole Haynie, Clint A. Heller, Wesley J. Hill, Jillian Rachel Huntsinger, William J. Hurst, Mayada Tranel-Chachere Leonard, Sydney Marie Lyon, Gloria Lynn Marler, Kathy Bowen Marquez, Alex Jason McDonald, Angelina G. Mirassou, Hana Elizabeth Moskovitz, Seth M. Myhre, Clay Nathaniel Nelson, Ryley James Nordahl, Samuel Robert Pearce, Adam Thomas Russell, Shawnie D. Rutter, Robert Leo Shepard, Kathleen A. Stone, Marina Grace Torre, Mariah M. Valdez, Roberta Renee Worth.
Sixteen members have earned degrees and certificates: Autumn Joy Alexander, Alexsis Grace Byers, Kaeah Natalia Domenech, Mahaila Marie Ford, Dao N. French, Carrie Francine Graham, Andrew Gordon Hall, Anthony G. Hardin, Stephanie D. Hart, Emily Rose Jacobson, Steven Michael Klith, Gloria Lynn Marler, Kathy Bowen Marquez, Audry B. McCain, Juliann Pyland, Kathleen A. Stone.
The college shares its graduation list by hometown/residing city as listed below.
Altaville
Manjot Kaur
Manpreet Kaur
Brianna Lenae Pipkin
Kellie Ann Porovich
Angels Camp
Ryan-Alexander ArceJaeger
Justin W. Clemens
Cynthia N. Cole
Alex W. Hartung
Todd Albert Loughran
Kenia Munguia-Penaloza
Hailey Renae Smoot
Aptos
Amanda Jo Porter
Arnold
Ronald B. Anderson II
William F. Bria
Matthew Miles Griffin
Channing I. Harris
Ronald S. Hawkins
Patrick Micah Mandell
Kathleen A. Stone
Claire S. Wiley
Avery
Steven C. Villegas
Big Oak Flat
Shana Danielle Berthelson
Amber Terra Schone
Buena Park
Mayada Tranel-Chachere Leonard
Chicago Park
Susann Gauthier
Chinese Camp
Becky A. Ford
Columbia
Ariel Carolyn Watson
Copperopolis
Jamieson Dodds
Kaley D. Graham
Joseph Anthony Minnis
Glenn Robert Perry
Mariah M. Valdez
Davis
Hana Elizabeth Moskovitz
Fresno
Michael D. Martinez
Groveland
Shannon D. Bias
Stefan Aleksei Karunos IV
Adrien T. Malicay, Jr.
Gloria Lynn Marler
Christina M. Wilkinson
Hathaway Pines
David Lee Carlon
Jackson
Savannah Mae Baldwin
Jamestown
Kasey R. Carajan
Luis G. Diaz
Sophia Marie Dragun
Whitney Ranee Everhart
Matthew Warren Harper
Stefany Nicole Haynie
Logan John Paul Johnson
Mike I. Meshkov
Donna Joyce Miller
Brent A. Mohr
Emily Jena Moore
Natalie Nicole Mueller
Elyse Rebecca Northcutt
Aubrey Alexis Okelsrud
Raquel Kay Relva
Sarah Kae Michele Shank
La Grange
Tristan Clay Avalos
Adam Thomas Russell
Lafayette
Julie R. Green
Lee Vining
Alexis Romero
Livermore
Andrew Gordon Hall
Lodi
Kaeah Natalia Domenech
Mariposa
Rebecca Elizabeth Adams
Angelina G. Mirassou
Merced
Matthew James Alley
Mi Wuk Village
Kevin C. Carter
Chailah Eileen Reynolds
Kathy Bowen Marquez
Moccasin
Brian A. McGregor, Jr
Modesto
Alex Jason McDonald
Sumindar Singh Modesto
Mokelumne Hill
Coral Paloma
Mountain Ranch
Brian Alexander Cox
Mackenzie L. Dwight
Murphys
Andrew Patrick Brauer
Kendra A. Eccles
Dao N. French
Carrie Francine Graham
Wesley J. Hill
Joseph Steven Hollett
Alicia J. McDaniel
Oakdale
Wade A. Branch
Cy C. Chrisman
Tice M. Damigo
Zachary Tyler Gravel
Kristine Anne Harbert
Wendi Vanessa Kearsley
Audry B. McCain
Lisa Marie Morris
Shawnie D. Rutter
Hannah Daley Stewart
Sarah M. Stone
Oakland
Sierra A.J. Rawls
Riverbank
Clay Nathaniel Nelson
Arturo Castro Verduzco
Sacramento
Johnathan T. Borba
Salida
Frank M. Vella
San Andreas
Elyse McKenna Bailey
Kevin Stephen Carley
Sonora
Autumn Joy Alexander
Brittanny Lee Allen
Madeline Celeste Clancey Amlin
Erik A. Anderson
Krystina Marie Atherton
Emily Kate Baier
Brenda Lea Barnhart
Kylie Justine Berger
Skyler Paul Blaise
Karin Marie Boklund
Darian Klaire Buckman
David Lee Burghgraef
Andrew J. Buster
Alexsis Grace Byers
Erin Ashley Campiotti
June-Marie L. Carrillo
Angela Michelle Marie Cordes
Joshua Marcus Costello
Elliott Thomas Cox
Michael F. de Vries
Sean Daniel DeAnda
Ashley Corin Dearden
Eric S. Dearden
Reina Veronica Enriquez
Blair I. Eversley
Barbara J. Farkas
Shalene B. Fender
Kathleen M. Freeman
Abigail Garnica
Jonn Kendrick Geer
William Chandler Geer
Kevin A. Gilles
Scott M. Green
Jacob Owen Gull
Lalayna Kay Hablutzel
Shelby K. Haefele
Eugene Larry Harvey, III
Jennifer Anna Hood
Gregory Thomas Jerman
Jeffrey Quentin Jongejan
Elizabeth Jurado
Ashley Janelle Kennedy
Patrick Sean Kerrigan
Chaiwat Khunkheiykha
Nicolas Paul Logan
Sara Jeannette Lopez
Darrell Glenn Lowrey
Sydney Marie Lyon
Paige Von Martin
Shavonne Angel Martinez
Justin McColloch
Sabrina Chelsea McDaniel
Aniko Meszaros
Kirstin Meyer
Eugenia Marie Mierop
Angelina Rae Montelongo
Elizette Soto Nelson
Jessica Leigh Nosanow
Brandon Joseph Ohler
Austin Lee Page
Andrea M. Palmieri
Jose I. Paz, Jr.
Samuel Robert Pearce
Emily M. Quenneville
Veronica Antoinette Ramirez
Miriam Michaela Reza
Tony Jay Rogers
Jocelyn Maurie Schader
Chonne Marie Shatswell
Robert Leo Shepard
Breena B. Smith
Nina Jeannine Sparling
Dawn N. Thompson
Jamie E. Ulibarri
Mason C. Verde-Green
Ashley Nicole Walton
Audrey Lynn Weeks
Sienna Nichole Weeks
Sherry Ann Wellman
Julie Nicole Weston
Kathy A. Wiggins
Suzanne L. Williams
Soulsbyville
Shawna D. Bogolea
Gabrielle C. Chipponeri
Daniel Bannon Ervin
Jacob William Hoskins
William J. Hurst
Leah Beth Johnson
Jaclyn Rose Lowery
Joseph Abraham McDonald
Matthew William Roberts
Roberta Renee Worth
Sutter Creek
Michelle L. Tillery
Tuolumne
John West Baldwin
Melanie Bruce
Jeremy M. Dillon
Mahaila Marie Ford
Ashley Marie Gelhaus
Anthony G. Hardin
Stephanie D. Hart
Sandra Kay Hix
Emily Rose Jacobson
John M. Marceaux
Kaitlin P. Rigmaiden
Jennifer Sarah Wilson
Ashley Ann Woita
Turlock
Toni Lyn Adams
Alyssa Christine Caughey
Bryan A. Crawford
Twain Harte
Jack Earl Bryan
Paul S. Harrison
Clint A. Heller
Jillian Rachel Huntsinger
Sofia Mariana Marcoccia
Seth M. Myhre
Katelyn Rose Stewart
Kyle O. Warren
Vallecito
Alexa Jean Bolton
Valley Springs
Eric A. Cancilla
Rebecca Marie Fischer
Jordan Faith Gill
Alexis McKenna Johnson
Steven Michael Klith
Hayley Suzanne Litzenberg
Jacqueline Anne Materne
Gabrielle Lee Morelli
Ryley James Nordahl
Angel Peralta
Juliann Pyland
Kerrine Vanessa Smith
Marina Grace Torre
Waterford
Sarah Lee Ann Miller
Quentin Howard Muncy
Yosemite National Park
Jessica Dawn Brown