Motorcycle Chase Ends With Warrants, Resisting Arrest Charges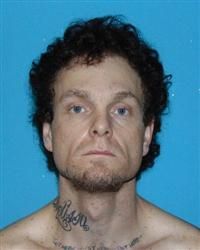 David Brock, TCSO Booking Photo

View Photos
Sonora, CA — After trying to evade a traffic stop, a motorcyclist traveling in the dark without working taillights wound up in a ravine before heading to jail.
According to Tuolumne County Sheriff's spokesperson Sgt. Andrea Benson, deputies first attempted to stop 32-year-old David Brock of Sonora on Crystal Falls Drive just before 11 on Saturday night. He was reportedly piloting a 1983 Honda motorcycle with inoperable taillights very unsteadily.
Instead of pulling over as directed, Brock made a right turn onto Diablo Court, nearly tipping over while doing so, and then jumped off while the motorcycle was still running. Sgt. Benson recounts that the motorcycle landed on its side as Brock ran up a driveway at the end of the court, ignoring all orders to stop.
She says a deputy pursuing him on foot wound up following Brock into a ravine, where, using a flashlight, he was able to spot the suspect. After making his way several yards into the ravine he located Brock lying in the creek and arrested him. A subsequent records check turned up four local warrants for charges of hit and run property damage, resisting arrest, possession of controlled substances and possession of drug paraphernalia. He was also wanted on a felony warrant out of San Joaquin County for violating post-release supervision terms.
Transported to Sonora Regional Medical Center for a medical evaluation prior to booking, Brock reportedly became uncooperative and combative, admitting at one point to using marijuana and methamphetamine just prior to the chase. Once medically cleared however, he was booked into the Tuolumne County Jail on his outstanding warrants and for resisting arrest.