Bold Thief Steals Generator From Railtown 1897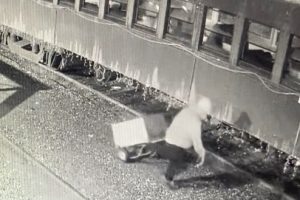 One of the suspects caught on security camera footage stealing generator
Jamestown, CA – Take a look at the video in the image box of the alleged thieves stealing a generator from Railtown 1897 State Historic Park in Jamestown earlier this month.
Columbia and Railtown State Park Rangers are asking for the public's help in identifying the suspects. One can be seen using a dolly to wheel out the stolen equipment to a car, and the other appears to be playing lookout. The theft occurred in the early morning hours of Friday, January 6th. Here is also a picture of that getaway car. The time stamp on the video shows the time to be just after 5 a.m.
The generator was taken from one of the railcars and is a Cummins Onan, model 5.5HGJAB-1038K, serial number H140732968.
Park officials say, "It will cost the park nearly $7,000 to replace [the generator]." They ask that anyone with information about this crime contact the Columbia Ranger Station at (209) 588-9128.