Celebrating Earth Day In The Mother Lode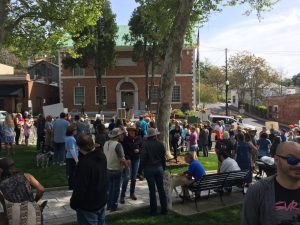 March for Science-Sonora (Organizers report nearly 250 attended

View Photos
Yosemite, CA — Some are lacing up their shoes to march in support of science on Earth Day in the Mother Lode.
There are over 600 similar marches going on across the nation and worldwide today including the March for Science-Yosemite. It is a non-partisan event dedicated to supporting science and scientists and highlighting the importance of science and democracy functioning together. Organizers say science is essential in our everyday lives as evidence-based policy decisions keep us safer, help us live longer, and protects our planet.
In downtown Sonora, beginning at 10 a.m. marchers will travel from Courthouse Park to the Opera Hall where there is an Earth Day celebration going on all day. The March for Science-Yosemite starts at 11:00 a.m. with a Celebrate Earth Day on the Yosemite Village Mall, in Yosemite Valley. Then at 1:00 p.m. participants depart on the march from Yosemite Village Visitor Center and loop to and from Sentinel Bridge Parking Lot, which is route about 1 mile. There will be Teach-ins from local scientists at Yosemite Museum Fire Circle, Yosemite Village Mall, Yosemite Valley beginning at 1:45 p.m.
Yosemite National Park is not involved in the event, it is just being held on the grounds. Other Earth Day events in the area can be found by clicking here.