Planting An Attack Against Bark Beetle Infestation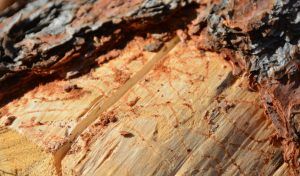 Bark Beetle destruction

View Photos
Murphys, CA – The Calaveras Tree Mortality Task force is enlisting an army of seedlings to help combat the bark beetle infestation.
Sierra Pacific Industries has donated 5,000 pine seedlings that include species of ponderosa Pine, sugar pine, Douglas fir and cedar to be given out to those with trees that were impacted by the insects. Calaveras County Government spokesperson Sharon Torrence reports, "This is to help start new trees in areas where the bark beetle has devastated home owners' property. People don't have to show that they live in the area." She adds that instructions will be given away with the trees so they are planted properly.
The tree seedlings can be picked up on Sunday, April 23, from 11 a.m. to 4 p.m. at Sierra Hill Market in Murphys.
Click here for an earlier story regarding the bark beetle epidemic, which also offers and landowner tips for spotting new potential outbreaks and other resource information, now that we are entering the insects' most active season.