Caltrans Crews Cleaning Up The Highways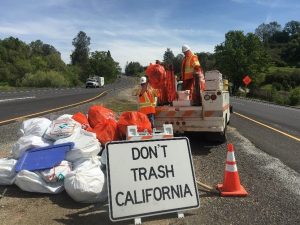 Caltrans Trash Cleanup

View Photos
Sonora, CA — As part of a statewide effort today, you will notice Caltrans crews and volunteers cleaning up litter along highways in the Mother Lode.
Leading up to Earth Day, April 22, it is Caltrans annual Litter Removal and Enforcement Day. During last year's cleanup event, 1,552 bags of trash were filled in the eight county regional district that includes Tuolumne, Calaveras, Mariposa, Merced, San Joaquin, Stanislaus Alpine and Amador.
Throughout the past year, Caltrans reports that it spent $67.1 million removing things like litter, tires and old mattresses from the land around state highways. It is money that could have been spent on road repairs and improvements. Caltrans asks that travelers be cautious of the workers out today and slowdown in cone zones.