Update: Cold Front Will Bring Wind And Freezing Temps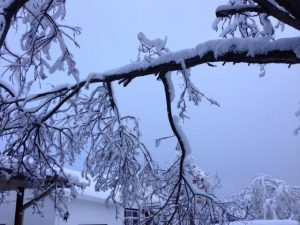 Snow on branches

View Photo
The Wind Advisory issued for the western slope of the northern Sierra Nevada will expire at 1 PM this afternoon (Monday).
North winds of fifteen to twenty-five mph will continue with gusts ranging from forty-five to sixty mph.
Gusty winds could blow around unsecured outdoor objects, so secure them now. Tree limbs could be blown down and a few power outages may result.
Slow down and use extra caution while traveling, especially if operating a high profile vehicle.
Additionally, the National Weather Service has issued a Freeze Warning for the central San Joaquin Valley through 9 AM Wednesday morning.
Sub-freezing overnight temperatures will drop to as low as twenty-seven degrees.
Frost and freeze conditions can kill crops and other sensitive vegetation and could possibly damage unprotected outdoor plumbing.
Take steps to protect tender plants from the cold.