Teaching Tap Savings Through Art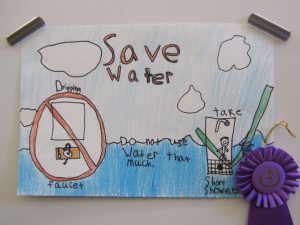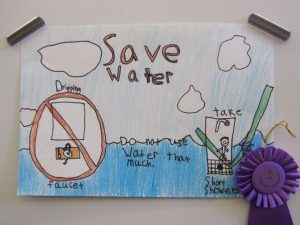 A.J. Hupp's First Place Poster

View Photos
Sonora, CA – Hundreds of third graders took part in the Tuolumne Utilities District's (TUD) "Every Drop Counts" poster art contest and two students won the top honors.
The contest is an annual event with the goal to educate youth on water, the water cycle, water conservation and future water needs. This year's TUD representative was, Rebecca Miller-Cripps, a Tuolumne County Master Gardener. She visited over 18 third grade classrooms filled with 370 students. Miller-Cripps brought with her a video, demonstrations, charts, worksheets and work booklets to educate students about water systems, water quality, the water cycle and water conservation. Then students were asked to show what they learned by drawing a poster and entering it into the art contest.
The winners were announced on March 28th at the TUD board meeting. Taking home the Grand Prize was A.J. Hupp of Summerville Elementary and second place went to Eli Ingalls of Sonora Elementary School. Their posters are in the image box.