Storm System Causes Flooding And Traffic Impacts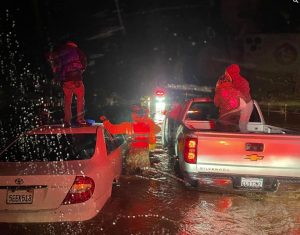 Flooding in Valley Springs

View Photo
Valley Springs, CA — Emergency officials have been busy in the Mother Lode over the past 24 hours due to heavy rain and snow.
The Calaveras Consolidated Fire Department reports that on Saturday evening there was widespread flooding in parts of Valley Springs, including at the Ace Hardware store, Alpine Gas, and multiple homes and condos along Highway 26, Grouse Drive and St. Andrews Drive. Emergency officials rescued some citizens trapped in vehicles and homes. Officials are assessing the damage and impacts in the area today. Many roads around Valley Springs and San Andreas were closed Saturday evening, and early this morning, due to flooding. The Office of Emergency Services reports that they have since reopened.
In Tuolumne County, during the eight o'clock hour this Sunday morning, the CHP reports that there were dozens of vehicles stuck on Highway 108 between Long Barn and Cold Springs, causing a closure of the highway. It has since reopened.
Power outages are minimal in Tuolumne and Calaveras counties, as of 1:20pm on Sunday. There are small outages, impacting only a handful of customers, near Long Barn, Arnold, Copperopolis and Valley Springs.
Travel with extra caution in the region today.