Update: Multi-Vehicle Crash In Tuolumne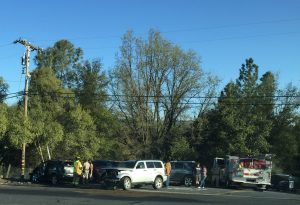 Crash On Black Oak Road

View Photos
Update at 9:40am: The accident has been cleared on Black Oak Road, and traffic is moving freely.
Original Story Posted at 8:35am: Tuolumne, CA — The CHP reports that an ambulance was requested for a three vehicle crash on Black Oak Road near Tuolumne Road.
The crash occurred around 7:45am and officials have been working to clean up the road over the past hour. Travel with caution in the area and be prepared for activity. No further details are immediately available.