Additional Storms Are On The Way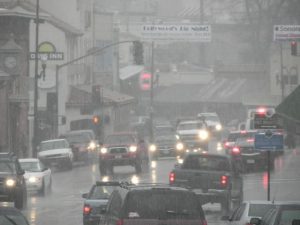 Rain In Sonora

View Photo
The National Weather Service has issued a Winter Storm Warning for the western slope of the northern Sierra Nevada from 4 AM Saturday to 4 PM Tuesday. Additionally, a Winter Storm Warning is in effect for Yosemite National Park above 6,000 feet, from 10 PM Saturday until 4 AM Wednesday.
Heavy snow is possible due to a couple of systems.
Snow levels will mostly be around 4,000 to 5,000 feet this weekend, but will gradually rise to 7,000 to 8,000 feet beginning Sunday night into Monday, before lowering again Monday night into Tuesday.
With the first system from Saturday into Sunday, the total snow accumulations will range from one to three feet, above the 6,000 foot elevation.
With the second system on Monday morning until Tuesday night, expect additional snow accumulations of a-foot-and-a-half to three feet above the 6,000 foot elevation. Three to six feet of additional heavy snow accumulation is likely above 8,000 feet.
Winds will gust as high as fifty to fifty-five mph. Strong winds could cause tree damage and bring down tree branches.
Travel could be very difficult to impossible. Significant travel impacts will likely persist at the higher pass levels on Monday.
If you must travel, keep an extra flashlight, food, and water in your vehicle in case of an emergency.
All of this means that there will be several more rounds of excessive rain in the lower elevations.
Therefore, a Flood Watch has been issued for the Mother Lode and the northern San Joaquin Valley from late Saturday night until Wednesday afternoon. A Flood Watch is also in effect for the Mariposa County foothills, the lower Sierra Nevada of Mariposa County and Yosemite National Park (including the Yosemite Valley floor), from late Saturday night through late Tuesday night.
The first system will affect the area from Saturday into Sunday and bring mainly moderate rain, while possibly heavy at times. Flooding is possible due to saturated soil from recent heavy precipitation. After a brief break from heavy precipitation on Sunday evening, more widespread heavy rain associated with an atmospheric river may lead to flooding across the region, from early Monday morning until early Wednesday morning.
Excessive runoff may result in flooding of rivers, creeks, streams, and other low-lying and flood-prone locations. Creeks and streams may rise out of their banks. Flooding may occur in low-lying and poor drainage areas, roadways, and other urban areas. Low-water crossings may be flooded.
You should monitor later forecasts and be alert for possible Flood Warnings. Those living in areas prone to flooding should be prepared to take action should flooding develop.