Calaveras Launches Community Phone-Line For Flood Resource Info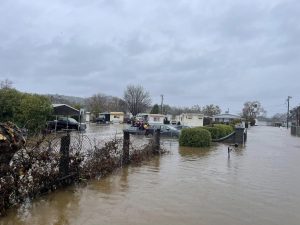 Flooding in the Castle Rock Mobile Home Park in Valley Springs

View Photo
Update at 6:35 p.m.: Calaveras County has updated that Baldwin Lane from 4447 to 4487 is now a partial closure with one-lane access. Other roadway information can be viewed below. The county has also provided a snowplow information line for the public to call at 209-754-6017, and the Public Works Roads number is 209-754-6401. The county's GIS Community Information Center is fully operational and can provide citizens with address-specific information; click here. Residents may also be eligible for assessed value relief as a result of storm damage and flooding. For more information and to find out eligibility, contact the Calaveras County Assessor's Office at 209-754-6356.
County officials have also released these updated sandbag locations (limit 10 sandbags per resident and bring your own shovel):
Arnold Maintenance Yard, 1119 Linebaugh Rd. (Closes at 3:30pm)
Glencoe Maintenance Yard, 16151 Hwy 26 (Closes at 3:30pm)
Calaveras Consolidated Fire Station #3, 6501 Jenny Lind Rd. – NOTE: prefilled sandbags may be available
Jenny Lind Yard, 11558 Milton Rd. (Closes at 3:30pm)
San Andreas Rd Yard, 891 Mt Ranch Rd. in the parking lot below the shop building (Closes at 3:30pm)
Mokelumne Hill Fire Protection District, 8160 Church St., Mokelumne Hill, CA
Mountain Ranch Community Center Parking lot, 7869 Whiskey Slide Rd.
Murphys Fire Station, 37 Jones St. – NOTE: prefilled sandbags may be available
Vista Del Lago Cul-De-Sac near Valley Springs Dental, 313 Vista Del Lago – prefilled sandbags will be available
Mangili Rd. Cul-De-Sac at Power Up Fitness gym, 145 Mangili Rd. – prefilled sandbags may be available
Copperopolis Fire Department, 370 Main St.
West Point Volunteer Fire Department, 195 Spink Rd.
Angels Camp, sand and sandbags are available at 200 Monte Verda (behind the Police Department
Check below for additional information on road closures and other county services.
Original post written by BJ Hansen at 6:39 a.m.: San Andreas, CA — Calaveras County declared a localized state of emergency due to last weekend's flooding, and another atmospheric river event is possible today and tomorrow.
In response, Calaveras County has launched a community phone line where local residents can call and learn about available resources. It will be available from 9am-5pm, effective today and continuing through January 10. Officials will be able to answer questions and relay information. The number is 209-754-2855.
The county reports that there remain full road closures, due to major damage, on Baldwin Lane, White Road at Highway 26, and Salt Springs Road. There are partial road closures 10121 Hunt Road, Patricia Road at Moran Road, Gwin Mine Road from Rich Gulch Trail to Paloma, and Meadowmont Way at Pine Drive.
Additionally, Calaveras County Animal Services is providing emergency evacuation space for small animals (dogs and cats) at the San Andreas Animal Control Shelter at 901 Jeff Tuttle Dr., San Andreas. Please call 209-754-6866 to make arrangements. Large animals can be taken to the Fairgrounds. Domestic pets will be accepted at the Fairgrounds by going to the Floriculture Building, small animals can go to the Swine Barn, and horses can be taken to the beef wash racks area.
Sandbag locations: Please limit the number of sandbags to 10 per resident and
remember to bring your own shovel.
• Arnold Maintenance Yard, 1119 Linebaugh Rd. (Closes at 3:30pm)
• Glencoe Maintenance Yard, 16151 Hwy 26 (Closes at 3:30pm)
• Calaveras Consolidated Fire Station #3, 6501 Jenny Lind Rd. – NOTE: prefilled
sandbags will be available
• Jenny Lind Yard, 11558 Milton Rd. (Closes at 3:30pm)
• San Andreas Rd Yard, 891 Mt Ranch Rd. (Closes at 3:30pm)
• Mountain Ranch Community Center Parking lot, 7869 Whiskey Slide Rd.
• Murphys Fire Station, 37 Jones St. – NOTE: prefilled sandbags will be available
• Vista Del Lago Cul-De-Sac near Valley Springs Dental, 313 Vista Del Lago –
prefilled sandbags will be available
• Mangili Rd. Cul-De-Sac at Power Up Fitness gym, 145 Mangili Rd. – prefilled
sandbags will be available
• Copperopolis Fire Department, 370 Main St.
• West Point Volunteer Fire Department, 195 Spink Rd.
• Angels Camp, sand and sandbags are available at 200 Monte Verda (behind the
Police Department)