Sonora Council Looking To Craft Marijuana Ordinance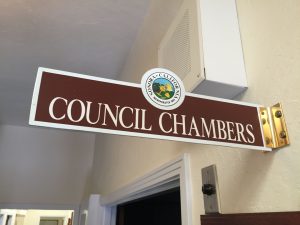 Sonora City Council Chambers

View Photos
Sonora, CA — The Sonora City Council has called for a special meeting on Thursday to have further discussion about how the city may respond to Proposition 64.
City Administrator Tim Miller notes that this marks the second city workshop on the topic. Proposition 64, approved in November, legalizes marijuana for recreational use in California. Cities and counties still have the ability to pass localized rules and regulations in regards to marijuana, as long as they do not prevent residents from individually growing and/or possessing up to six plants, which is the core protection implemented by Proposition 64.
City Administrator Tim Miller notes, "We'll be looking at areas that the council might want to consider regulating. This could include everything from dispensaries to commercial growing, to manufacturing, testing and distribution. We'll also be discussing what other cities are doing in respect to those areas of the proposition. Then public safety staff, and building staff, will be sharing some concerns that they may have in the areas like dispensaries and cultivation."
The public will also have an opportunity to comment at the meeting, and if the council is ready, may direct the staff on how it would like to proceed with an ordinance.
The open to the public meeting will get underway at 5pm on Thursday at Sonora City Hall, located at 94 North Washington Street.
We also reported earlier that the Tuolumne County Board of Supervisors approved a temporary ban on the commercial sale of marijuana for recreational use in the unincorporated areas of the county. The supervisors have put together a marijuana working group to review more long-term solutions. The actions of the county supervisors do not cover the City of Sonora's jurisdiction, which is why the council is reviewing the issue separately.