A Sonora Shoplifting Spree Ends In Three Arrests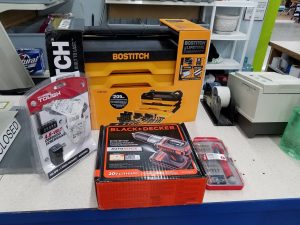 Stolen tools found in vehicle

View Photos
Sonora, CA – Thieves hit two Sonora stores and managed to flee just minutes before police arrived, but an alert CHP officer stopped them in their tracks as they were heading out of town.
The first call came into the Sonora Police Department from a clerk at the Ross store on Mono Way reporting that a man and woman walked out the door with items still in hand on Thursday around 7:30 p.m. About an hour later, dispatch received another call, this time from the Walmart Store on Sanguinetti Road. Employees report two males left the store with a cart full of tools and clothing. Officers could not locate the pair at the scene but put out a description of their vehicle to area law enforcement.
It was about fifteen minutes later that a CHP officer spotted the vehicle driving erratically and speeding on Highway 108. The vehicle was pulled over on Phoenix Lake Road near Hess Avenue. A records check showed it was stolen from Turlock. Inside were 26 year-old Adrian Eugene Hernandez and 33 year-old Paul James Howard, both of Turlock, along with19-year-old Autumn Marie Trousdale from Ceres. A search of the vehicle discovered items stolen from the store with the price tags still on them.
Hernandez and Howard were booked for shoplifting and felony theft or extortion of motor vehicle. Their bails were set a $10,000.00 each. Both were on probation from Stanislaus County for drug charges. Howard was also on a California Department of Corrections Parole for Armed Robbery.
Trousdale faces traffic related charges from the CHP.