Sticking To State's Stricter Emission Standards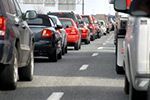 Traffic

View Photos
Sacramento, CA — State air regulators have voted to keep the state's tougher car-emissions standards through 2025 and motor ahead to market for zero-emission vehicles in years ahead.
The California Air Resources Board (CARB) voted unanimously on Friday to continue with the standards for 2022 to 2025. "Today CARB affirmed the technical reviews done by our own and EPA staff, as well as the work of independent analysts," said CARB Chair Mary D. Nichols. "We invite the global industry to bring us their best cars and trucks and take advantage of the willingness of our leaders to provide a broad range of incentives to help make these vehicles affordable. We also invite them to come sit down with us if they have specific concerns about implementation of the existing regulations that can be addressed without weakening the impact overall. The program is delivering cleaner cars that save consumers money and are fun to drive: That's how we do it in California."
The Board vote was supported by senior environmental representatives from the 12 states, among them Connecticut, Massachusetts, New York and Oregon, that have adopted California's standards. Together they make up roughly 30 percent of the nation's new car sales with a combined population of 113 million.
"With the midterm review now in the rearview mirror, we look forward to accelerating our efforts to develop the next set of California vehicle standards," said CARB Deputy Executive Officer Alberto Ayala.  "California is also moving forward to accelerate deployment of fuel cell and battery electric cars. That will put us on track to meeting our clean air and climate goals for 2030 and also align California with current advanced vehicle technology research and investment in the global auto marketplace."
This move comes amid President Donald Trump's recent call to re-examine the rules governing gas mileage and establish one fuel mileage requirement for automakers across the U.S.