Update: Vehicle Vs. Power Pole Crash And Outage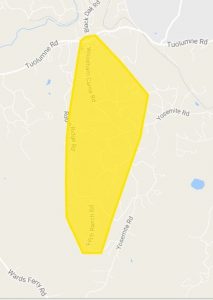 Yosemite Road crash creates power outage

View Photos
Update at 6:30 p.m.: PG&E reports the lights are back on for the 170 customers in the Woodham Carne Road area of Sonora. A solo-vehicle crashed into a power pole on Yosemite Road just after 4 p.m.
Original post at 5:05 p.m.:  Sonora, CA — A vehicle versus power pole crash in the Sonora area has left 170 PGE customers without lights.
The company reports a crew is heading to the scene on Yosemite Road near Woodham Carne Road. The CHP reports the vehicle went off the roadway, smashed into a pole and brought down power lines. Luckily, there were no injuries in the wreck.
PG&E has posted a 7:30 p.m. restoration time.