Bigelow And Berryhill Requesting Full Water Allocation For Valley Farmers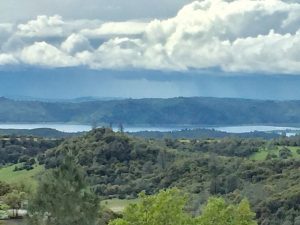 New Melones Reservoir Is Much Higher In 2017

View Photos
Sacramento, CA — Over the past four years, farmers in the Central Valley have received only a small fraction of their requested supply due to the drought.
Only 20% of the water requested via the Central Valley Project by agricultural contractors was made available in 2013, no allocations in 2014 or 2015, and 5% in 2016.
A letter was sent this week to President Donald Trump's new Department of the Interior Secretary, Ryan Zinke, asking for agricultural contractors to receive 100% of requested water this year. It was signed by nine Republicans, including Mother Lode Senator Tom Berryhill and Assemblyman Frank Bigelow. The letter was also signed by two Central Valley Assembly Democrats, Adam Gray and Joaquin Arambula.
The letter states, "In addition to the negative impact on farmers and farm workers, the withholding of water has also caused hardship for families throughout the region, contributing to the region's higher unemployment and poverty rates. Hundreds of thousands of acres have been fallowed which has reduced productions at food processing facilities, decreased business for transportation companies and resulted in an overall downturn in direct and indirect businesses that supply or serve the agricultural industry."
The letter cites that the March 1st northern Sierra Nevada snowpack reading was 159% of the average for the date. You can read the full letter by clicking here.
The Central Valley Project is under the Supervision of the US Bureau of Reclamation. It allows for water stored in California's reservoirs to be transported for irrigation and other purposes in the Central Valley.