A Shoplifter Tried to Use A Booze Bottle As A Weapon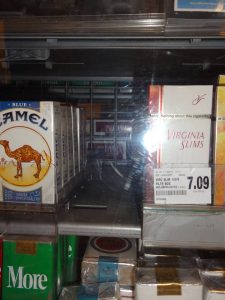 locked cigarette cabinet that was broken into at store

View Photos
Sonora, CA – An alleged thief stole cigarettes from a Sonora grocery and then charged police with a raised bottle of alcohol he had also taken from the store.
The Sonora Police Department responded to a call from the SaveMart supermarket on Mono Way reporting the theft. Once on scene, a clerk gave a description of the male suspect.  Officers found 18-year-old Mark Allen Ramirez of Sonora, who fit the description walking on the sidewalk near Greenley Road.
As officers approached him, Ramirez yelled at them and raised a bottle of booze he had clenched in his hand while moving towards them aggressively, according to SPD. Lt. Turu VanderWiel adds, "The officer was able to gain Ramirez's compliance without injury to anyone by ordering him to the ground at taser-point. While in custody, Ramirez made threats to kill two officers and a Sonora police volunteer at scene."
Further investigation revealed that Ramirez had broken into the store's locked cigarette display as seen in the image box picture. Ramirez was booked for felony threats against an officer, theft, and vandalism. His bail was set at $20,000.