'High Risk' Search Nets Drug Bust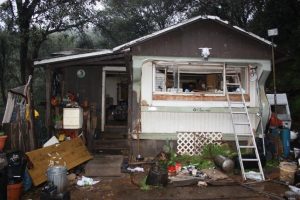 Sonora drug bust

View Photos
Sonora, CA – Tuolumne County Sheriff's Department reports a raid resulted in drugs, firearms, stolen property and even animal control being called to the scene.
Tuolumne Narcotics Team Agents and SWAT carried out what they called a "high risk" search around 7 a.m. Wednesday at a trailer located at 22808 Four Wheel Drive Road off Quail Mine and Big Hill roads in Sonora.  As agents entered the mobile home they found two women inside. They were identified as Thoris Lynn Donovan, 53, and Krisse Sue Fells, 35. Additionally, a male juvenile fled from the home on foot and is still being sought. Sheriff's officials have positively identified him, but due to his age are not releasing his name.
The warrant focused on narcotics, stolen property and firearms, which were all found at the residence. Sgt. Debra Moss did not have further details regarding any of the items found or the amounts of drugs. The rundown condition of the trailer prompted a call to county code compliance officers to check for violations. Animal control also responded to investigate the condition of pets on the property. However, Sgt. Moss did not have any information or conditions of those animals either.
Donovan and Fells were arrested and face felony drug charges. Their bail is set at $10,000 each.  Sgt. Moss notes the case remains under investigation.