Supervisors Take Action On Items Honoring Veterans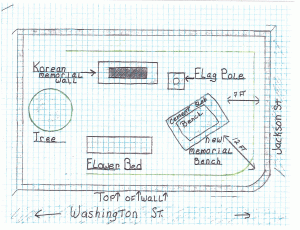 Site of future bench

View Photos
Sonora, CA — A bench will be placed in front of the downtown Sonora Veterans Hall that will honor local service members that died fighting in Iraq and Afghanistan.
The project was spearheaded by the local Operation Mom organization that provides support services to military members and their families.
The names of five people from Tuolumne and Calaveras counties will be carved onto the bench, with potential room for more.
Operation Mom approached the county and asked for permission to place the bench in front of the Sonora Veterans Hall, adjacent to the flag pole at the corner of Washington Street and Jackson Street.
At today's Tuolumne County Board of Supervisors meeting, group member Pat Padavana referenced the 2008 passing of Army Sgt. Bobby Rapp when talking about the need for such a memorial. "One day I was driving home from the Bay Area, last year, and it was after March 3rd, the anniversary of Bobby Rapp's passing. I realized that with the wonderful memorials that we have all around here, that we needed one for our young fallen. I brought it up with my Mom's, and they agreed and said 'yes,' they need to be recognized and not forgotten…not hidden on the side of the street…but in front where people can see their names. They deserve that. They signed up to serve their country voluntarily."
The county's Historic Preservation Review Commission looked at the project and recommended that the bench be placed on the sidewalk in front of the Veteran's Hall on Washington Street arguing that the proposed area in front of the hall is too crowded. The City of Sonora was then approached about placing the bench on the city's sidewalk, which was denied, according to county meeting documents.
The Supervisors disagreed with the Historic Preservation Review Commission and approved the initially proposed placement with a 5-0 vote. A concrete slab will be poured to support the bench and the remaining areas are slated to receive new sod similar to the completed Courthouse Park across the street. A rosemary bush will also be removed for as part of the construction.
In a separate action, the Board voted unanimously to recognize March 30 as Welcome Home Vietnam Veterans Day.