Illegally Parked Vehicle Nets Drug Bust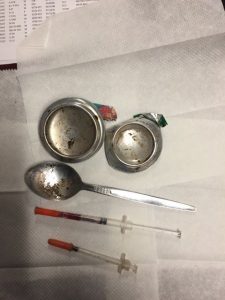 Drugs found

View Photos
Sonora, CA — Not only was the vehicle revealed to be stolen but the driver led deputies on a foot chase while the female passenger was found with drugs hidden in her bra.
Tuolumne County Sheriff's officials report deputies noticed an SUV parked illegally halfway into a handicapped parking space at the Junction Shopping Center off Mono Way in Sonora at 10 p.m. on Wednesday.  When they approached a man standing beside the SUV he took off running, but was caught within minutes.  He was identified as 27-year-old Edward Cooper who was wanted on a felony probation warrant evading charge. A syringe was found in Cooper's pocket; while a records check of the 1998 white Ford Explorer revealed that it was stolen out of Tulare.
The lone passenger inside the stolen SUV was 30-year-old Ashley Leal of Twain Harte. She was also searched by deputies, and they found two hypodermic needles, a spoon, and a bottom of a soda can containing burnt residue tucked in her bra.
Deputies found several new items lying inside the vehicle from the CVS store, which the business confirmed were stolen. Cooper and Leal were arrested and booked into the Tuolumne County Jail. The two were charged with car theft and possession of drug paraphernalia. Leal faces an additional charge of possession of stolen property and Cooper was additionally booked for his warrant and obstructing or delaying an officer.