Hwy 120/James E Roberts Bridge Closure Bumped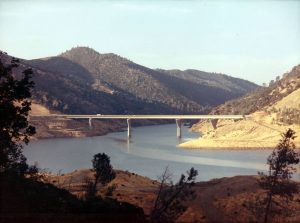 SR-120/James E. Roberts Memorial Bridge

View Photos
Sonora, CA — Due to another pending stretch of wet weather, Caltrans has rescheduled a previously planned weeklong closure of the Highway 120 James E Roberts Bridge by Lake Don Pedro.
Originally scheduled to close Monday, March 20 at 5 a.m. for an entire week 24/7, Caltrans officials now say the work will begin Monday March 27 at 5 a.m. — and continue until the morning of Monday, April 3. They explain the closure is necessary to properly reconstruct the bridge expansion joints and subsequently allow new concrete to cure without bridge traffic vibrations.
Following its April 3 re-opening officials indicate that there will be some additional overnight closures to facilitate materials and equipment removals.
The entire project, which will have taken well over a year by the time it completes sometime in November, is estimated to cost $20.8 million.