Celtic Faire Draws Big Crowd To Sonora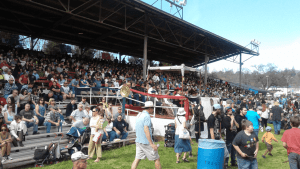 Sonora Celtic Faire

View Photos
Sonora, CA — Sonora Celtic Faire founder Patrick Karnahan estimates around 12,000 were on hand for this past weekend's event at the Mother Lode Fairgrounds.
He acknowledges that it may have been a record setting year for the popular event that features jousting, Irish bands, Highland Games and more. You never know what weather to expect during March in the Mother Lode, but the conditions this past weekend were near perfect.
Karnahan says a highlight occurred Sunday afternoon when the packed grandstands witnessed International Champion Jouster Charlie Andrews be unhorsed for the first time ever, by Greg Boxma of Canada. A grudge match followed, lasting 12 rounds, but Andrews could not get Boxma off the horse. Andrews was still the overall winner of the three day competition and Boxma finished second. However, the Canadian gained enormous respect from those on hand.
2017 marked the 31st year of the Sonora Celtic Faire.