Sonora Police Seeking Info To Help Locate Suspicious Pair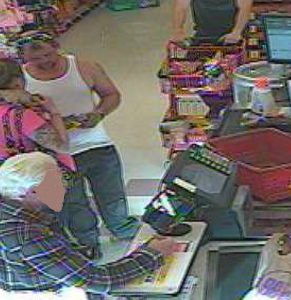 Sonora Police Stolen Truck Investigation, March 11, 2017

View Photos
Sonora, CA – Sonora Police are asking for the public's help in identifying a man and a woman associated with a stolen vehicle investigation.
According to Lt. Turu VanderWiel, last night just before 7:30 his office received information regarding a suspected previously stolen blue tailgate — as it appeared to have suddenly turned up on a white Dodge pickup truck. The vehicle in question, spotted near Stockton Road, stood parked at the front of the Downtown Plaza Laundromat.
Officers arriving onscene located the unoccupied truck, backed into a parking stall. After further investigation it was determined that the pickup, itself, a white 2005 Dodge Ram, was reportedly stolen out of Mariposa on Feb. 19. A subsequent search of its contents turned up drug paraphernalia, burglary tools and a Chihuahua puppy.
Investigators further determined from in-store surveillance footage that a male and female associated by eyewitnesses with the vehicle had apparently brought the puppy inside Save Mart with them a couple of hours earlier to make some purchases. After its discovery inside the truck cab, the puppy was taken by police to the local animal shelter, where they say it is being put up for adoption.
To view pictures of the pickup and pair in question, click into the slideshow in the image box. Anyone with information about the two subjects or vehicle seen in these photos is asked to contact the Sonora Police Department at 209 532-8141.