McClintock Receives Warm Embrace At TuCare Dinner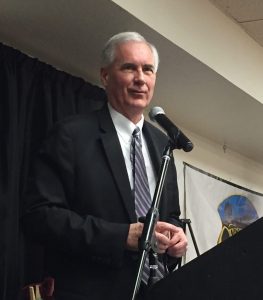 Congressman Tom McClintock Speaks at TuCare dinner

View Photos
Sonora, CA — Mother Lode Republican Congressman Tom McClintock spoke before a packed Sonora Elks Lodge for TuCare's annual dinner Saturday evening.
McClintock received a standing ovation when he took the stage and started off by first referencing his recent town hall meetings. He joked that it was nice to hear applause instead of having obscenities yelled at him, to which he received more loud and passionate applause.
Speaking to what appeared to be a core group of supporters, McClintock stated a "new era" is beginning in Washington, DC, and said it will result in healthier forests and a healthier economy for the foothill communities.
The Congressman praised TuCare for raising awareness about forest health and stated that the group's efforts need to be copied in other areas of the country. Many times he referenced "failed leftist policies" over the past several decades that have left the forest in a state of "benign neglect." He stated, "The tide has finally started to turn."
He noted this coming week the Federal Lands Committee will start hearings on tree mortality and from that lawmakers should see a new version of the Resilient Federal Forests Act that passed the US House in 2015 but failed to gain support in the Senate. "This time I think we have a chance to get that all the way to the President and have it signed into law," he stated. McClintock said that it will allow for additional forest thinning "to a level that the forest can sustain."
The dinner was attended by several local leaders, including Tuolumne County Supervisors Randy Hanvelt, John Gray, Sherri Brennan and Karl Rodefer, Calaveras County Board of Supervisors Chair Michael Oliveira, and Assemblyman Frank Bigelow.
TuCare, which is short for Tuolumne County Alliance For Resources and the Environment, has very strong backing among the forest products industry, and has a stated mission of enlightening and advising the public on the wise use of natural resources.