Vehicle Burglar Caught By Owner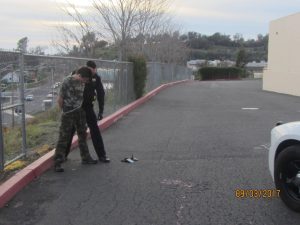 Sampson arrested at scene

View Photos
Sonora, CA — A man is discovered breaking into an SUV by the owner, who makes a citizen's arrest.
Sonora Police Officers were dispatched to the Timber Hills Shopping Center on Mono Way around 5:35 p.m. Thursday behind Mountain Mike's Pizza for a vehicle break-in. Once on scene they found the suspect, 33-year-old Keith Brian Sampson of Sheep Ranch had already been apprehended. Sgt. Chris Rogers explains, "The vehicle alarm alerted the owner who chased, tackled and restrained Sampson until police arrived. Sampson was found to be in possession of gloves and a burglary tool."
After examining the vehicle and the tools the officer determined that Sampson had used it to open the window.
Sampson was arrested for attempted vehicle burglary and possession of burglary tools. A records check revealed that he was on probation for burglary in Calaveras County. Sampson remains behind bars on $15,000 bail.