Completely Driverless Cars On California Roadways In 2017?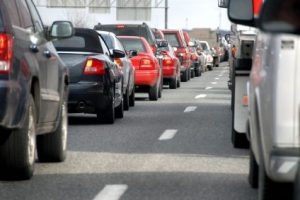 Traffic

View Photos
Los Angeles, CA — Soon California motorists could find the vehicle in the lane next to them without a steering wheel or human inside.
California's Department of Motor Vehicles (DMV) is proposing rules that would open the way for truly driverless cars.
"These rules expand our existing autonomous vehicle testing program to include testing vehicles where no driver is present," said DMV Director Jean Shiomoto. "This is the next step in eventually allowing driverless autonomous vehicles on California roadways."
Tech companies and automakers have already been testing self-driving cars on California's roads for the past two years. However, those vehicles were required to have steering wheels, pedals and human backup drivers to take over in an emergency, but that could change. The newly proposed regulations address public safety concerns while recognizing the potential of autonomous technology to improve safety, enhance mobility and encourage innovation, according to the DMV, which provided this list of rules:
Recognize that the National Highway Traffic Safety Administration (NHTSA) is vested with the authority to develop Federal Motor Vehicle Safety Standards (FMVSS) and enforce compliance with safety and performance standards for motor vehicles. DMV is requiring certification to meeting these federal safety standards.
Establish a framework for testing without a driver.
Identify requirements that a manufacturer must meet in order to sell, lease, or otherwise make their vehicle available outside of a testing program.
Address other key topics related to autonomous vehicle deployment, including driver licensing and responsibility, vehicle registration, and advertising of autonomous vehicles.
A 45-day public comment period will end on April 24th. The public can submit written comments to: LADRegulations@dmv.ca.gov.