Alleged Drug Dealers Busted In Tuolumne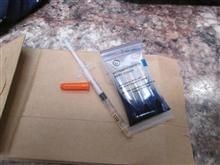 Needle and drugs found

View Photos
Tuolumne, CA — A man and a woman were arrested early yesterday morning for drug possession and sales, according to the Tuolumne County Sheriff's Office.
It happened at around 3am at the Black Oak Casino Hotel. Security personnel spotted a woman on surveillance video remove a syringe from her backpack and put it inside her bra.  The Sheriff's Office responded and later arrested 28-year-old Megan Bunow, and her companion, 36-year-old Lee Freitas. Bunow handed the Sheriff's Office the syringe containing methamphetamine, and Freitas was found in possession of a digital scale, multiple small plastic bags and a glass pipe with methamphetamine residue.
When they arrived at the jail, Freitas informed a deputy that he had methamphetamine hidden in his sock. In addition to that, a bag containing nine grams  of meth was found hidden in his pants during a later search. One gram of meth was found in Bunow's clothing during a jail search as well. They were both booked on a variety of charges.