Sonora Man Leads CHP On High Speed Chase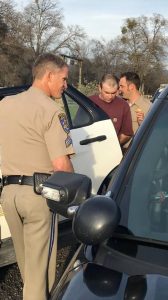 Kenneth Edward Job Arrested

View Photos
Sonora, CA — A CHP Officer attempted to pull over a Ford 150 truck yesterday afternoon on Lime Kiln Road, but the driver instead accelerated.
CHP Officer Faustino Pulido says the driver was 24 year old Kenneth Edward Job, and he was traveling at speeds between 25-75 mph. The chase lasted approximately 15 minutes and covered 10 miles. It ended near Powell Ranch Road and Mayor Way.
Job was taken into custody and the truck was searched. Officers found a loaded gun and ammunition, which Job was not allowed to possess because he is a felon. He also had an expired driver's license. He was booked into county jail on a variety of charges.
Job was initially being pulled over because he had a damaged windshield and no front license plate.  The chase started at around 4:20pm.