Shoplifters Get Caught With Food Stuffed Under Shirts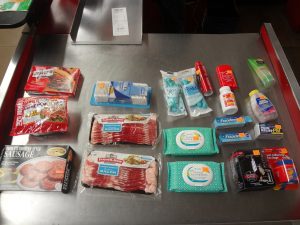 Items stolen from store

View Photos
Sonora, CA — A clerk at the Sonora Grocery Outlet store noticed the thieves' shirts were bulging as they walked out of the market and immediately called 911.
The call came into the Sonora Police Department on Wednesday at 9 p.m. Once on scene, officers detained three suspects, 38-year-old Amber Lynn Ramsey, 19-year-old Bradley Joseph Trevino, both of Groveland and 22-year-old Wyatt Boyd Wilson of Modesto. Ramsey was seen stuffing packaged meat under her shirt and the trio had apparently grabbed food and toiletries off the shelves. Trevino was determined to be the lookout as the other two stashed the items under their clothes.
The three were taken into custody. Ramsey was found to also have Oxycodone pills without a prescription, while Wilson had originally gave officers a false name. However, once he admitted to his true identity, a records check showed he was on probation in Tuolumne County for charges of burglary, petty theft and assault with a deadly weapon.
Additional drugs without a prescription were found on Ramsey while being booked in the Tuolumne County Jail. All face retail burglary charges. Ramsey's bail was set at $15,000 and Trevino's at $10,000, while Wilson's is $90,000 due to his probation violations.