Replanting Underway Within Rim Fire Burn Scar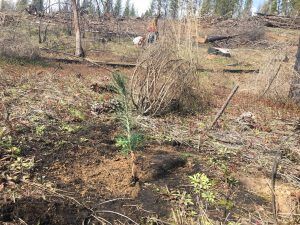 Replanting Trees In Forest

View Photos
Groveland, CA — Volunteers have started heading out this season to replant trees in areas burned by the 2013 Rim Fire.
Around 25,000 trees will be planted by groups of volunteers in the Groveland area throughout March. Clare Long of the US Forest Service notes that most of the trees are grown at a nursery near Placerville, and new this year, 4,800 are coming from a nursery put together by female jail inmates in Tuolumne County. She says among the early groups that have helped with tree planting are the Friends of Berkeley Tuolumne Camp and Curtis Creek Elementary School. The volunteer efforts are being coordinated in partnership with the Tuolumne River Trust.
In addition, about two times as many trees will be planted by professional contractors this season. Long adds, "The contractors are going into areas where it is harder to get to. We don't want to put school buses way out in the middle of fields and have to try to get people out there. The contractors, this is there job, and they are trained to do this. Where the average person can put anywhere from 50-100 trees per day, these men and women do about a thousand trees per day. This is their skill."
Replanting efforts typically occur during the months of February and March, but due to the heavy rain and snow in February, the planting season began on March 1st and will run over the next several weeks. Proceeds for the planting efforts are coming from the National Arbor Day Foundation and the National Forest Foundation.
The Rim Fire ignited on August 17, 2013 and burned 257,314 acres.