Traffic Stop Leads To More Than Fix It Ticket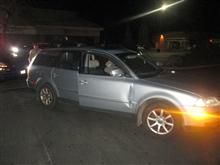 Volkswagen Pulled Over In Sonora

View Photos
Sonora, CA — The Tuolumne County Sheriff's Office made a drug bust during the early morning hours in the Junction Shopping Center in Sonora.
A deputy spotted a silver Volkswagen Passat with a missing rear license plate and defective headlights. The vehicle was pulled over, and one of the five people inside was on probation. A search was conducted and 35-year-old Laura Johnson of Modesto was found in possession of 34 various prescription pills without a prescription, 3.5 grams of methamphetamine and a methamphetamine smoking pipe. Another passenger, 48-year-old Jeffrey Webb, was in possession of about a half gram of heroin. Johnson and Webb were arrested and transported to Tuolumne County Jail. The driver and two other passengers were released from the scene.
The car was pulled over at 3am on Tuesday.