Weapon And Drugs Discovered During Jamestown Traffic Stop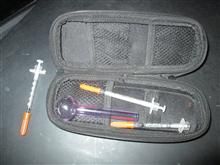 Needles found in vehilce

View Photos
Jamestown, CA – An early morning traffic stop ended with deputies finding a concealed weapon and drug paraphernalia.
The incident happened near Jamestown on Highway 108 by the Montezuma Junction recently.  Tuolumne County Sheriff's officials report inside the vehicle was 42-year-old Christopher William Kitchen and passenger 28-year-old Ashely Laurie Menking. A search of Kitchen revealed a concealed dirk or dagger and two hypodermic needles in his pocket.  Additionally, several needles were also found in the vehicle.
A deputy determined Menking was under the influence of a drug.  Both were arrested and booked into the Tuolumne County Jail. Kitchen faces charges of carrying a concealed weapon and possession of controlled substance paraphernalia, while Menking is charged with being under the influence of a controlled substance.