Sonora Council Discusses Greenley Road, Energy And Water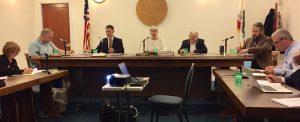 Sonora City Council

View Photos
Sonora, CA — Last night the Sonora City Council approved construction plans for the widening of the Mono Way and Greenley Road intersection.
The vote was unanimous, 5-0. The $3-million project is anticipated to get underway late this summer. However, the city must first finalize the purchase of the Corner Gas property at the intersection. The building needs to be demolished before the project can be completed. The city will hold off on requesting contractor bids for the widening project until around late May or June, when the property is expected to be purchased. Negotiations have been ongoing, according to the city. There is an urgency to move the project forward as it correlates with the opening of Sonora Regional Medical Center's new cancer center and outpatient pavilion.
In addition, the council voted unanimously Monday to support a Tuolumne Utilities District application for state funding to look at future and long-term options for the Sonora Wastewater Treatment Plant. There is no financial obligation for the city to support T.U.D.'s application.
The city also voted to postpone, by 30 days, a decision on whether to allow the Sierra Business Council help the city create an Energy Action Plan to investigate potential energy savings. Funding for the Sierra Business Council effort comes from fees paid by PG&E ratepayers. It was noted that the city would be required to have staff provide around 20-40 hours to help create the plan, and some councilmembers wanted staff to look into whether this is an accurate figure for the amount of work to be done. A Sierra Business Council representative indicated that energy savings would hopefully more than offset the costs of staff time.
The city also gave awards of appreciation to groups that helped with the Christmas holiday activities put on by the city. The groups were Clarke Broadcasting, Three Dog Investment LLC., St. James Episcopal Church and Vic's Towing.