Search For Columbia Man And Dog Ends Safely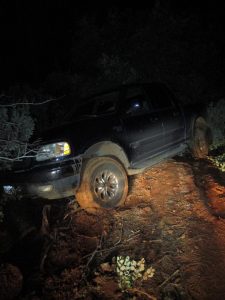 Elkin's crashed truck

View Photos
Columbia, CA — The Tuolumne County Sheriff's Department was alerted to the missing man and dog after a worried friend reported a phone call from the man went dead.
The Sheriff's Office was notified of the incident on Friday morning.  The friend reported that 70-year-old Lemuel Elkins had left his Twain Harte area home on Thursday morning to head to Elkins' Columbia home. The friend got a phone call from Elkin that was disconnected before the two could speak. Concerned for his friend, he drove to Elkin's home but found no one there and did not see a vehicle in the driveway.
Deputies began searching the area of Italian Bar Road from both the Columbia and the Twain Harte sides.  Elkin's pickup was found on Forest Road 3N11 but he was not inside. A short time later, a deputy discovered Elkin at his Columbia home. He told deputies while heading home early Thursday afternoon; his pickup got stuck in the mud. With no cell signal, he and his Jack Russell "Sissy" made the eight mile trek back to his home and arrived just before night fall.
The next morning Elkin had planned to go to his friend's Twain Harte home for help to get his truck out of the mud but could not make the walk as he was too sore from the hike the day before.
Deputies took Elkin to his friend's home and retrieved some medication he had left in his pickup. Elkin and the dog did not suffer any injuries.