Sonora To Review Plans For Greenley Road-Mono Way Widening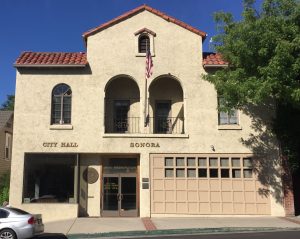 Sonora City Hall

View Photos
Sonora, CA — Tonight the Sonora City Council will vote on approving the construction design plans for the widening of Greenley Road at the Mono Way intersection.
The project includes widening the east side of Greenley Road between Guzzi Lane to Mono Way, and around the northeast corner of Greenley Road. The project requires the removal of the current Corner Gas building at the northeast corner. The city remains in negotiations with the owner and has yet to purchase the property.
The city will soon need to acquire construction bids for the widening project, however, a date for that is not expected to be set until the land acquisition is completed and there is a building demolition schedule. The project is anticipated to be bid around late May or early June, with construction beginning later in the summer. The project should take about three months to complete.
There is an urgency to get the project completed as it correlates with opening of Sonora Regional Medical Center's new cancer center and outpatient pavilion.
In other business, the council will vote on supporting a Tuolumne Utilities District planning application for Drinking Water State Revolving Fund revenue and vote whether to participate in a Sierra Nevada Partnership to prepare an Energy Action Plan.
The council will also give out awards of appreciation to groups that helped with the Christmas holiday activities in the city. The group's include Vic's Towing, St. James Episcopal Church, Three Dog Investment, LLC and Clarke Broadcasting.
The meeting starts at 5pm at City Hall at 94 North Washington Street.