An End Of An Era In San Andreas Fire Protection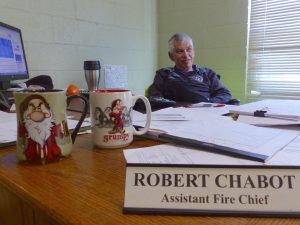 Assistant Fire Chief Robert Chabot

View Photos
San Andreas, CA — San Andreas Fire Protection District Assistant Chief Robert Chabot or "Grumpy" as he is jokingly called by staff is retiring after 20 years of service.
Chabot received high praise from San Andreas Fire Chief Don Young, "Robert has been my right hand man since I've been chief here. We are losing a guy who has been available 365 days a year, 24/7, whenever I called on him."
Personal reasons have prompted the 65-year-olds departure from his volunteer post as a fire commander. His last day is April 1. However, Chabot will remain as an administrative assistant to Chief Young, which is a paid position.
Chabot was named assistant chief in 2009 and dealt with some crazy situations along the way. One that he remembers involved having to give CPR to two cats rescued from a burning home.  His other achievements including bringing in three Federal Emergency Management Agency grants totaling nearly $2-million to the district, which went to purchase complete protective gear, a machine to clean the gear, self-contained breathing apparatus gear, testing equipment and a brand new, not-yet-delivered, fire engine.