Hanvelt Recognized For Conservation Efforts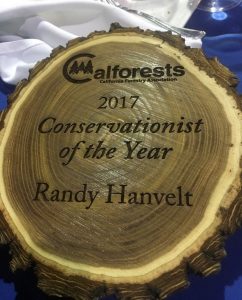 Randy Hanvelt - Conservationist Of The Year

View Photos
Napa, CA — A Tuolumne County Supervisor was recognized by a leading statewide forestry organization.
The California Forestry Association is a trade group comprised of forest owners, timber product companies and forestry professionals. The group strives to ensure that the forest is a significant contributor to both the state's environmental and economic well-being. The group states that it promotes responsible stewardship through sound policies and conservation practices. The organization serves as a central voice for the state's forest resource companies and communities. At its annual banquet last night at the Black Stallion Winery in Napa, the organization honored District Two Tuolumne County Supervisor Randy Hanvelt with the prestigious "Conservationist of the Year" award.
"We chose Randy as Conservationist of the Year because of everything that he has done for his county on the tree mortality issue," says Lindsay Vanlaningham, spokesperson for the association. "He was really out in front of everybody else, and for that we felt he really deserved it."
Hanvelt was also asked to moderate a biomass panel discussion held earlier in the day in Napa.
Hanvelt has been a member of the Tuolumne County Board of Supervisors since 2010.