Tap Water Flowing Again In Arnold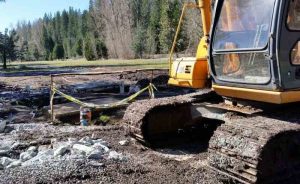 CCWD Emergency Repairs

View Photos
Arnold, CA — The Calaveras County Water District restored service to the 1,000 customers in the Meadowmont Subdivision late yesterday afternoon.
The outage had been caused by the failure of a pressure-reducing valve in a 52-year-old section of water transmission line at the Meadowmont Golf Course. The outage started this past Tuesday.
Until further notice, those customers impacted are advised to boil the water before drinking it. Customers should bring water to a boil, let it bubble for a least a minute, and then let it cool before drinking. Boiled or bottled water should be used for all food preparation until CCWD issues a notice that the water has cleared required testing. CCWD anticipates resolving the issue within the next 2-3 days.
Other alternatives to boiling water, according to CCWD, include dropping 1/8 teaspoon of unscented, liquid household bleach, into each gallon of clear water, and mix thoroughly. If the gallon of water is cloudy, you can use ¼ teaspoon of bleach. You should let the water stand for at least 30 minutes before using it. The treated water will have a chlorine like taste and odor, which is an indication that adequate disinfection has taken place.
Water disinfection tablets are another alternative option.