Libraries' Million Penny Challenge Blasts Through Goal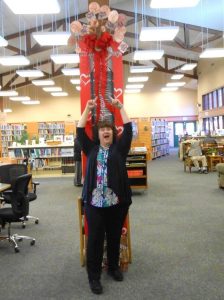 Tuolumne City branch librarian Gail Sorensen cheers Million Penny Challenge efforts.

View Photos
Sonora, CA – February might be a short month, but in 28 days residents managed to ante up well over a million pennies to beat a tall order challenge.
Via collection jars dispersed by Friends of the Tuolumne County Library at its local branches and various retail stores, as of March 1st, the group is reporting more than $13,000 in donations of pennies and other loose change donations to its Million Penny Challenge — with still a few more jars to count.
Library officials, including Tuolumne Branch librarian Gail Sorensen (pictured in the image box), are understandably ecstatic at the community response. Earmarked from the get-go the monies will go towards purchasing children's and young adult books for youth literacy programs at the Sonora, Twain Harte, Tuolumne City and Groveland library branches as well as in the county bookmobile.
One million US-minted pennies equals $10,000. According to curated data on Answers.com, and for imagination purposes, it would take a refrigerator-sized piggybank to store a million pennies, after which it would weigh around 6,000 pounds.
Since 3,000 pennies — which total $30 — fit into a two-liter sized bottle, one would need 333 bottles; each would weigh in around 15 pounds, roughly the size of a non-newborn baby. If successfully stacked into a tower, one million pennies would measure about 6,000 feet tall; laid side to side, the line would stretch close to 12 miles.