Two Arrested After Stolen Property Found In Vehicle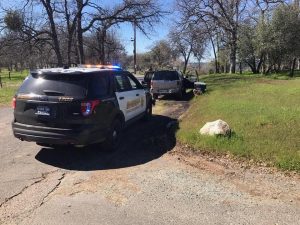 Stolen Property Located During Traffic Stop

View Photos
Sonora, CA — When a vehicle was pulled over in Sonora, Tuolumne County Sheriff's officials located stolen property from a recent home burglary in Columbia.
The deputy was finishing up a traffic stop on Tinnin Road in Sonora when he spotted a wanted suspect drive by him in a silver Chevy SUV. The unidentified suspect has several active arrest warrants for evading, transportation of controlled substances and drug sales. As the deputy returned to his patrol car, the Chevy initially drove out of his view. The deputy accelerated and caught up to the vehicle on Old Wards Ferry Road and he pulled it over for a traffic stop. However, the wanted suspect was no longer inside, and a different man, 32-year-old Bryan Underwood, was now the driver. The lone passenger, 35-year-old Michael O'Toole, was on state parole.
The Sheriff's Office searched the vehicle and found stolen property from a residential burglary in Columbia. O'Toole was booked into county jail for possession of stolen property and Underwood for driving on a suspended license.
As for the third potential suspect, a nearby resident reported a suspicious person hiding in the trees near their residence. However, a search was conducted and the individual could not be located. The name of the suspect has not been released at this time by the Sheriff's Office. An investigation is ongoing.