Three Months In Pennsylvania For Local Resident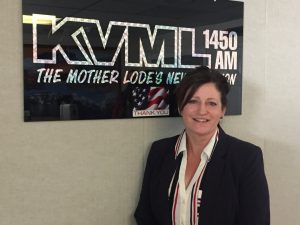 Suzanne Cruz

View Photos
Suzanne Cruz spent three months of election year 2016 with college students in Pennsylvania, promoting the ideas of our nation's founding fathers.
Cruz was Thursday's KVML "Newsmaker of the Day".
'Three Months in Pennsylvania: Diary of a Freedom Fighter' is the title of the new book authored by Cruz.
Cruz has lived in Tuolumne County for over thirty years. She is an award-winning speaker, and also writes and podcasts promoting the idea that life can be both fun and less stressful. She is a top speaker in colleges on the topic of student safety and success and in the business world, leading the way in awareness and mindfulness skills that increase efficiency.
Recognized by the District Attorney's office as a model for awareness and compassion, Cruz has over a decade in the law enforcement and professional safety field.
So why the three month trip to Pennsylvania in 2016? According to Cruz, "Both last year and today is a desperate time for America. The fighting and division have not been this great since the Civil War. At a time when many pulled their curtains closed, this book helps explain why I wanted to throw them open."
Cruz continued, "This is not only my journey, but every American's forgotten journey toward American Greatness. Through my book or diary, I want readers to rediscover the heroes and role models that made America. It's the message that I took to college students in PA and worked for a non-profit whose mission was to identify, educate, train and organize those students to promote the principles of fiscal responsibility, free markets and limited government."
This book is a look into a grassroots movement, a world that many don't even know exists on college campuses or elsewhere.
According to Cruz, "It is the story of the fight to save our children from indoctrination. I wanted to allow the students to know what is slowly becoming a secret, that America is a place worth falling in love with again and most importantly, worth fighting for.
Currently Cruz travels the U.S promoting the idea that, with greater listening and life preparedness skills, the wise will win the fight.
Cruz is also promoting these ideas locally.
For those interested in starting or joining clubs on their regional campuses, Cruz will have a meeting on Wednesday March 8th at 6 PM in the Starbucks meeting room at the Junction Shopping Center in east Sonora.
If you would like to order the book, you can go to Amazon.com or www.SuzanneCruz.com. Call 209-770-5025 for more information.
The "Newsmaker of the Day" is heard every weekday morning at 6:45, 7:45 and 8:45 on AM 1450 and FM 102.7 KVML.