Teen And Man Arrested For Assault With Deadly Weapon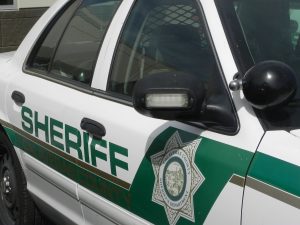 Calaveras County Sheriff

View Photos
Valley Springs, CA — Two men who took it upon themselves to act as repo men took off with a vehicle, which erupted into a fight.
Originally on Monday, the alleged repo men, Jacob King and Robert Saling, confronted the girlfriend of Jaycob Babcock-Coburn in their Valley Springs Motor Home Park trailer with a baseball bat and a pipe in hand. King and Saling were disputing their recent sale of a vehicle to the couple. According to Calaveras County Sheriff's officials, King allegedly raised a bat to the woman in a threatening manner as she stood with two small children in the trailer. The two men grabbed the car keys without her permission and took off with vehicle.
When Coburn heard what happened, he and a 16-year-old friend grabbed a bat and wooden stick and went looking for King and Saling. They found Saling in his trailer at the Sequoia Rose Motor Home Park and confronted him. The argument ended with Saling allegedly threatening to arm himself with a gun, according to sheriff's officials. While Coburn and the teen left, the argument later escalated to a physical fight during which, sheriff's officials say, Saling was knocked to the ground. The minor allegedly kicked and struck him with a bat. After deputies arrived, Saling was treated at the scene.
King faces conspiracy, robbery and child endangerment charges; his bail set at $120,000. Saling, charged with conspiracy and robbery, has a $50,000 bail. Coburn faces conspiracy and assault with deadly weapon charges and has the same bail. The teen, who faces the same charges, was taken to juvenile probation.