Some Mother Lode Roads Still Closed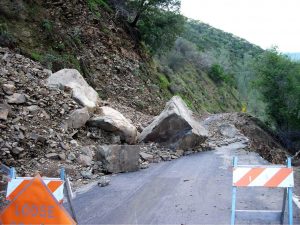 Archive Photo - 2017 Rockslide On Marshes Flat Road

View Photos
Sonora, CA — In the sunny wake of storms that wreaked significant damage, some roads are closed and crews are stretched thin making widespread repairs.
Tuolumne County Community Resources Agency reports that six roads remain partially or fully closed in its jurisdiction.
Between Brentwood Park and Twain Harte Little Fuller Road is currently under a one-lane closure. So is Elderberry Way in Groveland by Pine Mountain Lake Airport.
East of East Sonora off Mono Way, Hillsdale Drive at Stone Lane is closed with a detour in place utilizing Rockridge Way.
Near Keystone between J59/La Grange Road and Chinese Camp, Red Hills Road is closed. Until it reopens those used to using it as a shortcut between the two will be spending more time on Highway 108/120.
Near Moccasin, Marshes Flat Road at Kelly Grade remains closed. Detours include Highway 132 through Granite Springs to Highway 49 at Coulterville towards Moccasin.
Italian Bar Road is also still closed on the Columbia side at the pavement and at Rose Creek Circle near Jupiter. Motorists can still access Italian Bar Road on the Twain Harte side.
Clarke Broadcasting has reached out and not yet heard back from Calaveras County officials regarding an updated list of road closures. At last check, reported Feb. 8, four roads under the county's jurisdiction were closed due to storm damage: Mokelumne Drive in Arnold, where a bridge washed out; Snow Shoe Thompson in Dorrington; Hawver Road between Mokelumne Hill and Mountain Ranch; also Gwin Mine Road in Paloma.
Tree crews continue to work within the Butte Fire burn scar to fell hazard trees, particularly along Mountain Ranch and Railroad Flat roads. Although both remain open to traffic, motorists should remain alert for flaggers and one-way traffic controls wherever the work zones are in place.